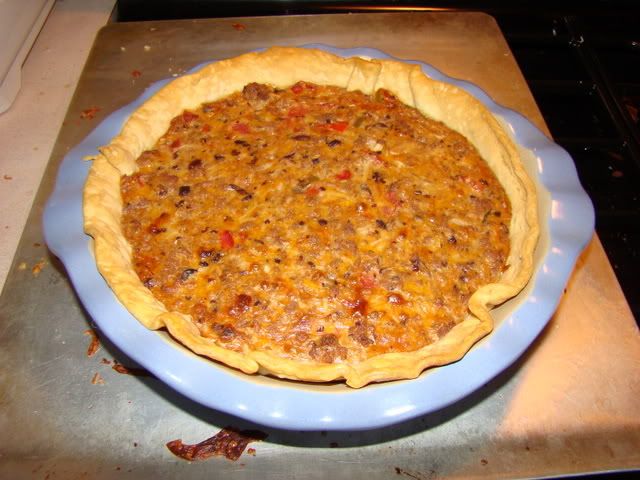 1 8 or 9 inch deep dish pastry crust
1-lb lean ground beef
3 large eggs, beaten
1 cup salsa
2 cups shredded cheese,
1 small onion, finely diced
1 tsp cumin
1/2 tsp garlic powder
1/2 tsp onion powder
salt to taste
sour cream
cilantro,
chopped diced tomatoes
black olives
Preheat oven to 350 degrees. Brown ground beef in a large skillet. Add onion and cook until they are soft and translucent. Drain beef, stir in spices and cook 2 minutes. Remove from heat and stir in salsa. Add eggs. Fold in cheese and pour mixture into pastry crust. Bake 20 to 25 minutes until crust is golden brown. Remove from oven and let stand 15 minutes. Cut into 6 or 8 wedges and top each wedge with a dollop of sour cream, cilantro, tomatoes, and black olives
I always use extra cheese in mine and eat it with extra salsa.